It's coming home!
Hi fish fans
Welcome to this week's Sailbrand roundup! This is the place to head for industry news, competitions and more as well as your starting point for what's in season, products of the week and recipes to help with your specials board inspiration! There's also our competition starting soon, so keep an eye on our Facebook, Instagram and Twitter pages as well as your specials flyers for more details.
Don't forget to keep checking back every week, as we will be adding new content all the time!
And as always with Sailbrand, there is someone to answer your calls 24/7, so don't hesitate to get in touch with one of the friendly team with any and all enquiries, orders, or just for catch up about the catch of the day!
Special Offers
Don't forget to keep an eye out for our special offer fliers! They should be winging their way to you on your next order and will tell you everything you need to know to get those G.P boosting specials ready for another weekend of sunshine!
It's Coming Home…
With the whole country gripped with football fever, we at Sailbrand are backing Gareth and the boys to bring it home this week. Send us your snaps from work featuring any of our products (or better yet one of our amazing drivers) to be with a chance of bagging yourself a great prize to be announced after the final on Sunday!
This Week's Product of the Week-Kalamata Olives
It's no secret that olives are one of the healthiest foods in the world, a fact that can also be said of seafood, but t's the cure that makes a good quality olive, and these beauties from Greece are some of the best, known as the king of the table olive, perfect served just as they are or made into a wonderful smoky, fruity tapenade.
They are sure to bring a touch of summer to your menu and are available in 2kg tins, 7 days a week. Give the office a call now for more info.
Fish of the Week: Monkfish 
Seasonal Fish of the Week
Despite being a terrifying looking creature the monkfish (or anglerfish as it is also known) is beloved by chefs for its meaty white flesh that is highly versatile. Monkfish is a delicious indulgence and with Sailbrand you can be assured of the best quality available, we source ours from our buyer on the quay in Shetland every single day. Can any other supplier tell you that?
It's wonderful roasted on the bone, or stuffed and wrapped, even as an alternative to scampi, the list is never-ending. Check out the recipe we've included below. Don't forget we are here live on the phone if you want to discuss prices or any of our special offers.
Also in season this month:
Brill, Lemons, Gurnard, Hake, Lobster, Plaice, Monkfish, Oysters, Scallops, Mullet and Sole
Monkfish With Chorizo Crust and Spiced Beans
Adapted from Marcus Wearing
Drawing on the meaty nature of the Monkfish tails as they stand up so well to the bold Spanish flavours of the chorizo, which you can also get from your order at Sailbrand! Our deli selection has an array of smoked and cured meats for you to get your hands on, give us a call today to discuss your needs
Makes 10 Portions
Chorizo Crust
400g chorizo, skin removed and sliced thinly

40g butter
350g brown bread, crusts removed
3 tsps smoked paprika
3 cloves crushed garlic
60g blanched almonds
Salt to taste
Spiced Beans
450g haricot beans

3 peeled carrots
1 stick celery
½ bunch of thyme
500ml veg stock
5 cloves crushed garlic
10 tbsp tomato puree
3 tsp turmeric, smoked paprika and cumin
500g cherry tomatoes
1 onion, peeled and sliced
Salt and pepper
Method:
Place all the ingredients for the chorizo crust into a food processor and whizz until a paste has formed. If it looks a little dry, pulse again with a few dashes of olive oil.
On a piece of clingfilm, spread one-quarter of the crust mix into the length and circumference over a piece of monkfish. Fold the clingfilm over the fish and roll until it forms a sausage. Tie the ends to tighten the clingfilm, then place in the fridge. Repeat with the remaining pieces of monkfish.
Place the drained beans into a saucepan with the carrot, 1 halved onion, celery and thyme. Add the chicken or vegetable stock. Top up with cold water to cover and bring to a gentle simmer. Cook for 15-20 minutes until the beans are soft, then strain, reserving the liquid, but removing the vegetables.
Heat 1tbsp of the vegetable oil in a medium-sized frying pan over a moderate to high heat. Thinly slice the 2nd onion and add to the pan with the garlic and cook until soft. Add the tomato purée, turmeric, paprika and cumin and cook for a further 2-3 minutes.
In another frying pan, heat the remaining oil until smoking, toss in the cherry tomatoes, season with salt and pepper and cook until evenly browned. Add the tomato purée to the bean mixture with the reserved cooking stock. Allow to simmer gently. Add the cherry tomatoes and adjust the seasoning if necessary.
To cook the monkfish, heat the vegetable oil in a non-stick frying pan over a moderate heat. Carefully unwrap the monkfish from the clingfilm and place in the pan. Brown lightly all over, then add the butter and continue cooking for around 5 minutes, until the fish is cooked through. Add the chopped parsley to the beans and serve with the monkfish.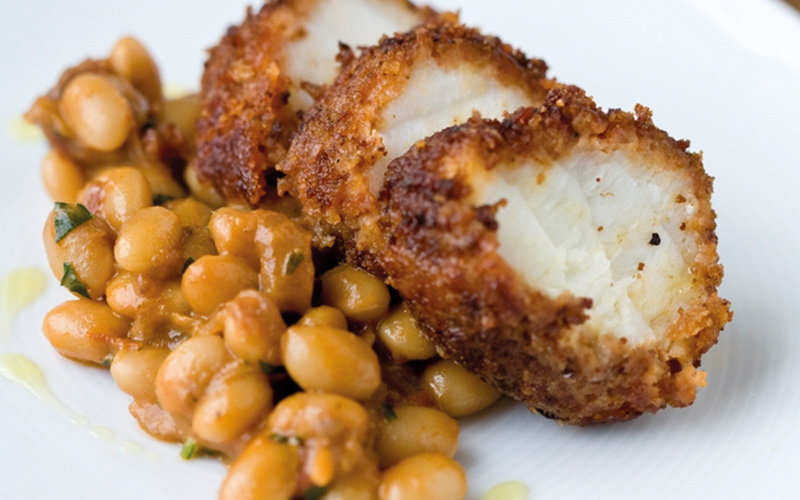 Get in touch
Call us on 01484 548975 to place your order or to find out more about our products and services.